MLA Day
October 16th, 2012 by Dan Allan
CIVIX is excited to announce the launch of MLA Day in Alberta and Saskatchewan!
MLA Day brings together high school students and their provincial elected representatives (Members of the Legislative Assembly, or MLAs for short) to discuss political issues and current affairs.
MLA Day provides students an opportunity to voice their opinions and begin a relationship with their elected representative. MLAs will have the chance to shed negative stereotypes associated with politicians. 
"We hope that by connecting students with their elected representatives, we can create stronger bonds between the province's youth and democratic institutions and values," says field commander Katie Reidel.
Through online resources, classroom discussion and interaction with their MLA, students will increase their knowledge of their provincial legislative assembly, develop trust in their local representative, and be encouraged to discuss future issues facing the province with family, friends and government officials. Ideally, the issues discussed on MLA Day will remain with each MLA as they return to their respective legislatures the following week.
In total, 21 Alberta MLAs and 14 Saskatchewan MLAs will visit classrooms in their electoral districts and divisions. Most visits are occurring this week, October 15th to 19th. According to Reidel, "the feedback we have received so far from teachers and MLAs has been very positive. So far it has been found to be a worthwhile program with beneficial results, both for the students and the elected representative." 
"It was a SMASHING SUCCESS.  Donna [Donna Kennedy-Glans, MLA for Calgary-Varsity] talked for the first 15 minutes and then was 'inundated with gooooood questions' for the next 45.  I think she appreciated it as much as we did.  Hats off to YOU for arranging it in the first place."
-Teacher, Alberta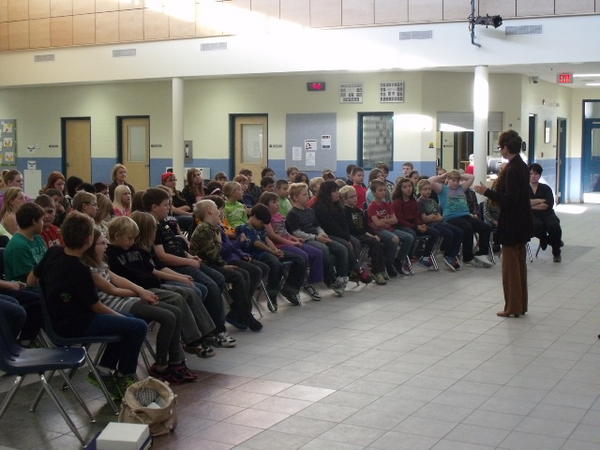 Past Student Vote Team Leaders in the two provinces were invited to register for the program. Student Vote, another CIVIX program, ran its most recent parallel elections in the provinces of Alberta and Saskatchewan. In Alberta, 85,186 students elected a PC majority government led by Premier Alison Redford in April 2012. In November 2011, 20,001 Saskatchewan students elected a Saskatchewan Party government under Premier Brad Wall.
We would like to thank all the MLAs and schools from across Alberta and Saskatchewan who took part for their participation and patience throughout this pilot program.
We'd also like to thank Murray Mandryk of the Regina Leader-Post for writing a piece to help Saskatchewan students prepare for the upcoming legislative session. 
For more updates on MLA Day, follow CIVIX on Twitter, Facebook and Pinterest!
Dan
Posted in MLA Day |
You can follow any responses to this entry through the RSS 2.0 feed. Responses are currently closed, but you can trackback from your own site.
Search
Recent Posts
Categories